15, 2014, Directed by David O. Russell
Starring: Christian Bale, Amy Adams, Bradley Cooper, Jennifer Lawrence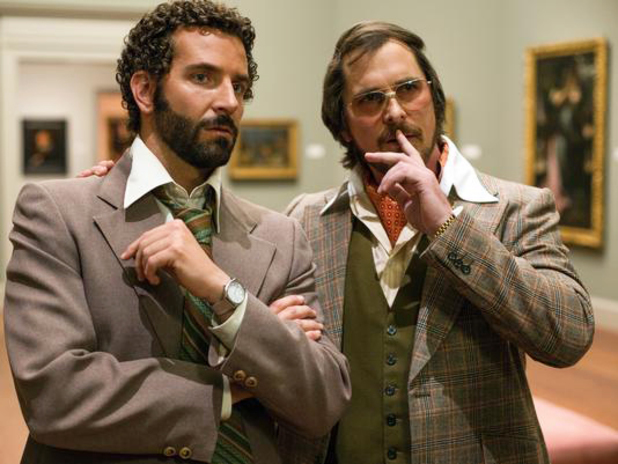 American Hustle
's tone is set from the opening caption, citing the events of the film as 'mostly true'. David O. Russell's 70s-set caper - which is, yes indeed, loosely based on the FBI ABSCAM operation which saw a pair of con artists forced to set up a sting corruption in order to frame several politicians - is the follow-up to his adorned Silver Linings Playbook (2012), recasting both Bradley Cooper and Jennifer Lawrence in roles secondary to The Fighter's (2010) lead talent, Christian Bale and Amy Adams. With the zaniness amped up, here they play the con artiste counterparts Irving Rosenfeield (complete with hilariously terrible toupee) and Syndey Prosser (complete with hilariously terrible English accent), with Lawrence impressing (who'd have thought it...) as the former's erratic wife, and Cooper slipping into the shoes of undercover agent Richie DiMaso - damn near stealing the film from under everybody's wigs..
Throughout, however, O. Russell distractingly conveys the feel of a picture attempting to capture Scorsese movie magic, instead lacking the required punch that pushes

that

filmmaker's features towards modern classic status. The whole aesthetically-charged setting of the decade is realised well, with each actor throwing themselves into their assigned role with aplomb. Bale and Adams both impress, dealing with quite a script that captures screwball wit well - most brilliantly utilised by Cooper, his scenes with comedian Louis C.K. reigning most supreme in the membrane. As is the norm ever since her role as Ree Dolly in

Winter's Bone

, no review would be complete without talk going the way of Lawrence, proving as firecracker Rosalyn that comedy still remains no biggy.
With every character untrustworthy up to their eyeballs, it doesn't prove teeth-sinking material, one questioning whether you would gladly decide to spend time in their company for a rewatch once the screen fades to black. The hard irony O. Russell befalls is that

American Hustle

would probably benefit from such a rewatch, it's sprawling tangential editing not as slick as all involved believe it to be. But with many a laugh-inducing moment, and a neatly played cameo (that adds to the earlier Scorsese theory),

American Hustle

is perhaps a bit too ahead of the curve for it's own well-being, but still exists on a scale above most films released this January.