The 56th BFI London Film Festival is almost upon us (it's about time an' all!), boasting a fresh new layout courtesy of new Festival director Clare Stewart. With over 200 films set to be shown over an 11-day period across Central London, here is Part 1 of my pick of what screenings you should be down as attending. Part 2 follows tomorrow…

Directed by Dustin Hoffman
Starring: Maggie Smith, Tom Courtenay, Billy Connolly
Mon 15th: 19:30 OLS / Sat 20th: 13:00 OWE2 (American Airlines Gala)
It may be difficult to comprehend that Quartet boasts Dustin Hoffman's first directorial credit, his debut in the field. This largely is the reason why the film has garnered plenty of excitement, although the respected cast that the screen legend has compiled will impress many. Ranging from Dame Maggie Smith to Billy Connolly, here is The Best Exotic Marigold Hotel for orchestra lovers. If the plot doesn't manage to tickle your fancy, just remember the name 'Dustin Hoffman.'
Directed by
Tim Burton
Starring
: Martin Landau, Winona Ryder, Catherine O'Hara

Wed 10th: 19:00 OLS / Wed 10th: 19:00 IMAX (Opening Night Gala)

This year's Opening Night Gala comes courtesy of Tim Burton's latest foray into stop-motion animation 28 years after his short of the same name saw him fired from Disney; Frankenweenie, the black and white 3D comedy horror which sees the director delve back into what he does best; merging the hilarious and the terrifying into an all-round ball of charm. A variation of Mary Shelley's Frankenstein, the plot sees a young inventor named Victor devise a way of bringing his beloved dog back from the deceased. Even if Burton of late hasn't fulfilled your expectations (Alice in Wonderland, Dark Shadows), a new film from the prolific guy is always something to tinge the movie world with some excitement, especially when themes hark back to his best work: Beetlejuice, Edward Scissorhands, Corpse Bride.
8.
The Hunt
Directed by
Thomas Vinterberg
Starring: Mads Mikkelsen, Thomas Bo Larsen, Annika Wedderkopp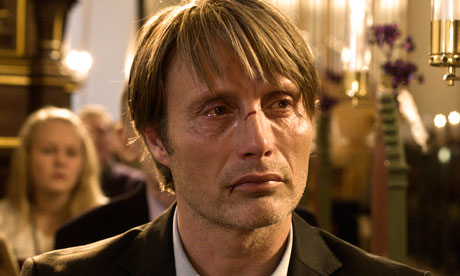 Thurs 11th: 15:30 OWE2 / Sat 13th: 18:30 OWE1 / Mon 15th: 15:00 VUES

If there is one reason to see this, it is for Mads Mikkelsen – a performance for which Le Chifre himself won a Best Actor gong at this year's Cannes Film Festival. Starring as primary school teacher Lucas, a man wrongly accused of abusing his best friend's daughter, Thomas Vinterberg's best film since Festen is a hard-hitting reflection upon what consequences can be had due to one girl's statement, be it truth or false.


7.
Celeste and Jesse Forever
Directed by
Lee Toland Krieger

Starring
: Rashida Jones, Andy Samberg, Ari Graynor
Sat 20th: 17:30 OWE1 / Sun 21st: 12:30 OWE2
A small-time comedy about the pitfalls of divorce between a couple who are still best friends, Celeste and Jesse Forever's inclusion in this year's Festival proves this is not your run-of-the-mill offering, instead raising the hype and boosting writer and lead actress Rashida Jones as a force that should be reckoned with. Saturday Night Live regular Andy Samberg plays Jesse to Jones' Celeste, and having been fortunate enough to see the film, their on-screen partnership is layered with honest humour and emotion; it's been a while since a comedy has had this much heart. Seek it out.

6.
Amour
Directed by
Michael Haneke
Starring
:Jean-Louis Trintignant, Emanuelle Riva, Isabelle Huppert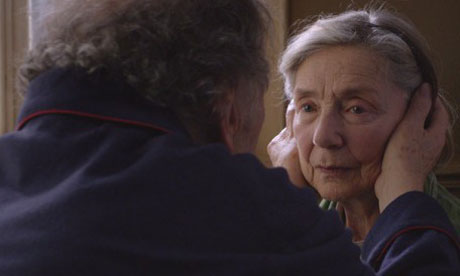 Thurs 11th: 20:45 Mayfair 1/Sat 13th: 12:15 Mayfair 1 (Love Gala in association with Time Out)
Arguably the most hyped film from outside the UK, Amour- a tale of a long-married couple who are forced to deal with devestating news - has already made a name for itself throughout 2012. Winning the coveted Palme d'Or at Cannes (the second for Michael Haneke), it appears that the divisive Danish auteur has broadened his appeal to the masses without changing a thing. Though his style may be polarising to some, his films are mesmerising to many, and for this reason Haneke's Amour needs to be witnessed.
The 56th BFI London Film Festival is finally upon us, kickstarting tonight with Tim Burton's

Frankenweenie

! Following Part 1 of my Top Ten picks of the Festival, here is what I feel are the big dog films to look out for over the next 11 days. Enjoy, and get involved.


5. Crossfire Hurricane

Directed by Brett Morgan
Starring: The Rolling Stones

Receiving its world premiere at the Festival is Crossfire Hurricane, Brett Morgan's 50

th

anniversary documentary on legendary rock stars The Rolling Stones. You don't need to be a Stones nut, just a music lover. If you are a fan mind, you should know they're going to be hitting the red carpet for the screening.

Directed by Wayne Blair
Starring: Chris O'Dowd, Deborah Mailman, Jessica Mauboy

Here we have what I predict will be one of the more underrated showings at the festival, but one whose very appearance will raise its profile enough so as to make a dent at the box office upon its release. Australian film The Sapphires is about the rise of a Supremes-esque Aborigines girl group mentored by Chris O'Dowd's Dave, who entertain US troops during Vietnam. From the clips that have been released, this is gonna charm even the most hard-centred folk.

3. Argo
Directed by
Ben Affleck
Starring
: Ben Affleck, John Goodman, Bryan Cranston
With just two films, Ben Affleck has carved himself out as a director whose films

warrant getting

excited about. With The Town a step forward after the also-brilliant Gone Baby Gone, here's hoping he can make it third time a winner with Argo, a feature already being mentioned alongside the word Oscar. The plot seems to merge political thriller with satire in an attempted serious manner - a strange one for sure. But I'm pretty excited to see how Affleck pulls this one together, for if the credible male cast are placed into the story successfully, this has the makings of a modern classic.
2. Sightseers



Directed by Ben Wheatley
Starring:
Steve Oram, Alice Lowe, Tony Way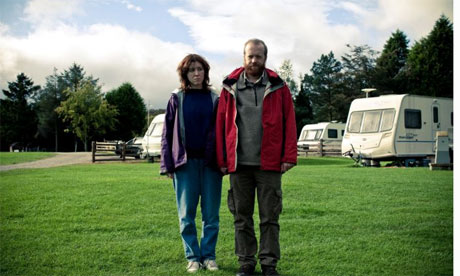 Ben Wheatley's follow-up to the deranged Kill List promises to be equally as deranged, albeit with a bucketful of laughs put in for good measure. If the early festival appearances and reviews throughout the past year are anything to go by, Sightseers could be the film of 2012. The fact it is showing at the LFF enhances this, not to mention it's backing by BFI Film Fund - best of luck getting a seat for this one.

Directed by Martin McDonagh
Starring: Colin Farrell, Christopher Walken, Sam Rockwell
Top of my personal list of films to get excited about at the festival was always going to be Martin McDonagh's long-overdue follow-up to the hugely revered In Bruges. Re-casting Colin Farrell, this time as Marty, the film boasts the cast to beat: Christopher Walken, Sam Rockwell, Woody Harrelson, to name but a few. And the trailer further proves what was already known: this is destined to be just as revered and quoted as his debut. What's it all about? A struggling screenwriter becomes embroiled in the LA criminal underworld when his friends kidnap a gangster's beloved Shih Tzu. If the Coen Brother-esque plot doesn't get you enticed, chances are nothing will.

LFF: Frankenweenie Press Conference:
Today, I was fortunate enough to attend the press conference for Frankenweenie ahead of its premiere tonight at Odeon Leicester Square, marking the start of the 56th BFI London Film Festival (LFF). In attendance were director Tim Burton, alongside the film's cast Martin Short, Catherine O'Hara and Martin Landau. Completing the line-up were producers Allison Abbate and Don Hahn. Winona Ryder, expected to attend, was forced to pull out due to scheduling conflicts. Here's the highlights of what was said:
Tim Burton described being back in London as 'amazing' considering he started making Frankenweenie here when there was no Olympic park. Now it's been and gone, it highlights how long it has taken to make it.

Looking at the original drawings, as well as Hahn proposing the idea, made him want to re-do his 1984 Frankenweenie short. He describes the film as a 'memory piece,' continuing by saying that 'black and white stop-motion is an exciting progress,' aided by working with a cast he loves.

When the present cast members are asked about their first impressions of the director, Tim exclaims 'Don't ask Martin Short!' Short, who worked with him on Mars Attacks!, comments that he recalls being thrilled to meet such an 'unbelievably collaborative filmmaker.' He states that Burton creates an ideal situation for an actor. Hahn worked on Fox and the Hound alongside Burton during his early days at Disney. He explained that Tim was miscast with the family studio in the 80s, for they didn't know what to do with him. He admits that Disney celebrating him now with the release of Frankenweenie is quite odd, but likes how things have come full circle. Landau, who starred in Ed Wood, highlights seeing Beetlejuice as a particularly memorable experience. On his Oscar-winning turn in Ed Wood, he says he had a joyous time with Johnny (Depp) and Tim, who 'created a playground for the actors.' He adds that he would drop anything for the director, jokingly adding 'even my pants,' to laughs from the press.
A member of the press ask Burton about his experience of being fired from Disney, to which he comments it wasn't your average firing; 'it was more Disney-friendly; like, "let Goofy show you the door!" ' He recollects it being a strange period but notches it down to being a low point for animation. When asked if he is surprised his outlook has become part of mainstream cinema, he simply replies 'I'm not so sure that's true.'
He talks about working with Short and Catherine O'Hara again (of whom he worked with on Beetlejuice), stating they play several characters in Frankenweenie because he loves them - not because he can't afford other actors!
Short discusses himself and O'Hara actually acting out the part of the parents as opposed to simply voicing them, commenting that that was a very specific idea from Tim. O'Hara adds that she was 'so happy with those scenes.' Short adds that Burton's instruction is to 'go with your instinct and divide it by 7.'
When asked about the merging of stop-motion with the black and white, Burton mentions that 3D is a 'crucial element' for more emotion is created. He is adamant that the medium helps support the work the artists did, for the hand-made puppets have a reality added to them through three-dimension.
Alison Abbate pinpoints the press to BFI Southbank's Art of Frankenweenie exhibition taking place from the 17th-21st October, whereby several of the sets and puppets from the film will be available to witness for yourself. Burton finds it important to point out that 'all forms of animation can flourish.'
Someone from the press then asks Burton about the horror references in Frankenweenie, of which he admits there are a lot of them - but insists the film is not dependent on these. He points out that he wanted to create a feel for that genre even if you don't really know much about it, meaning people who are unaware of horror can still enjoy their film-going experience. Landau feels that Tim was attracted to Ed Wood because of his love for horror icons Bela Lugosi and Vincent Price.
Someone from the press controversially asks if they were aware that Hitchcock has been 'getting a bad rap with misinterpretations' of late, to which Landau cheekily exclaims 'he certainly made no advances to me!' He claims that Hitchcock was a practical joker and nothing more, and he got on well with him; he adds that he never saw any of the advances he was said to have made on actresses the filmmaker worked with.
Burton admits that he does not find Frankenweenie dark in the slightest, and when asked if he would make an out-and-out horror feature, he queries, 'Saw VII in stop-motion?' to laughs from the audience. He's asked if he has a 'fascination with bringing dead characters back to life,' but Burton dismisses this by saying he finds that creepy and that it is 'more about creation and making things.' He feels that this is what filmmaking is - 'it's not about box office or reviews.' He brings the conference to its end by saying that - to him - film is a 'more pure version of why I live.'
And with that, Burton and co head off to prep for their LFF Opening Night Gala screening of Frankenweenie. Out in cinemas October 17th.

15, 2012, Directed by Michael Haneke

Starring: Jean-Louis Trintignant, Emmanuelle Riva, Isabelle Huppert 
























 
In cinema, there are directors who churn out film after film; directors who pay more thought towards cash in their pockets than how to make their current feature unique… But there are those directors who treat filmmaking like a jigsaw; a jigsaw with the most minute pieces, taking utmost care to deliver something standalone that merges traits used before, with additions, so that by the time said film is unveiled upon the world, an excessive amount of hype has been generated for a ready-made quintessential slice from that director's filmography. Whether you like him or not, Michael Haneke is one of these directors, and Amour is one of those films.
Garnering considerable hype largely due to the 2012 Festival circuit, not to mention its coveted Cannes Palme d'Or win, style is embraced warmer than ever here. Jean Trintingnant appears in his first appearance for 9 years as Georges to Emannuelle Riva's Annes. The two are long-married retired music teachers whose lives are upheaved when Annes suffers a stroke. The central performances are, for want of a better word, spectacular. So much so, that Amour could be a documentary and Trintignant and Riva its subjects. The film commences with a flash-forward, and ensuing scenes which occur as the film works its way to the conclusion are incredibly emotive; tasked with picking a standout scene would be an impossibility.

Like his films before It (Hidden, fellow Palme d'Or winner The White Ribbon), Amour is equally as bleak, hard-hitting and compelling, but perhaps to a greater extent due to the feeling of inescapable inevitability that effuses from the Austrian auteur's work. His latest, one of which many could - and will - make a statement as his best, isn't just a film but a snapshot of the brutality life can throw your way, without even leaving your front door. Haneke's presence is felt in the canny way he fixes the camera in position and tracks his characters, permitting his actors to do everything that suffices. Haneke tackles tough subjects in a characteristically unflinching but honest manner, heightening the integrity of all involved. Georges and Annes could be somebody you know, or you in the future; everybody can relate. This is remarkable filmmaking of the most understated form, and for this, Amour warrants all the respect it will undoubtedly receive.
TBC, 2012, Directed by
Dustin Hoffman
Starring: Tom Courtenay, Maggie Smith, Pauline Collins, Billy Connolly
A quintessentially British cast has been compiled for screen legend Dustin Hoffman's directorial debut,
Quartet
, based on Ronald Harwood's play about a group of former musicians who now live together in a retirement home: think
The Best Exotic Marigold Hotel
for opera singers. The old-age heroes are a trio when we first meet them, formed by Pauline Collins, Billy Connolly and Tom Courtenay - before a singing blast from their past, in the form of Maggie Smith, completes the quartet. The happy reunion is stunted by an apparent 'history' between Smith's former-superstar Jean and Courtenay's Reg, causing considerate struggles when the quartet must reform one final time at Beecham House's annual gala to mark what would have been Verdi's birthday.
Each are delegated their individual character set-pieces to begin with, almost disparate from each other as they stroll/glide/hobble
their way around the retiring home. Courtenay leads
talks with visiting schoolchildren, attempting to decipher the 'modern art form of rap,' whilst Connolly's cheeky Scot Wilf is busy making harmless advances on the home's sweet young carer, Dr Coburn (Sheridan Smith) and Collins' sporadic Sissy flits about, forgetting to deliver notes to fellow residents. It is when Smith makes her presence known to these that Quartet keeps it together; up-tight, and not in anyway self-deprecating, the actress makes her Jean warm, in an otherwise pretty cold role. Reg's evident problem with Jean's presence is explored with care by Courtenay and Smith, even if this does lead to what appears to be several memory lapses in the space of a scene; thankfully, the script doesn't notch this down to their age.
As is the same with other films that may contain older characters, there's always a hint of danger - a stumble here, a raised voice there may evoke uneasiness in concern of the consequence of such an action. Fortunately,
Quartet
includes hints of these moments with
nothing coming of them - instead allowing Hoffman to embrace why these characters, and we as cinemagoers, have come together instead of opting for what could have been a more dramatic route. This does mean that several moments are left open ended (early stages of dementia are evidently witnessed) – but the film's close is wholesome enough to satisfy. Admittedly, Hoffman's direction isn't actively felt, although you can tell the legend wallowed in the Buckinghamshire country scenery and the script falls flat at countless moments. No,
Quartet
may not be a nail-biter, or even the film of the year, but it's a carefully-constructed piece that cares about its characters more than most; lest we forget, Hoffman knows character - his portrayal of cinema icons Benjamin Braddock (
The Graduate
), Ratso (
Midnight Cowboy
) to name but a few. It is to his credit that backing him up are four incredibly-established actors who all ensure that
Quartet
remains a performance-led piece, that may at times require a walking stick to keep it upright.
3/5
'Quartet' had its American Airlines Gala screening on Monday 15th October. Catch it at Odeon West End 2 on Sat 20th.
15, 2012, Directed by
Ben Lewin
Starring
:
John Hawkes, Helen Hunt, William H. Macy, Moon Bloodgood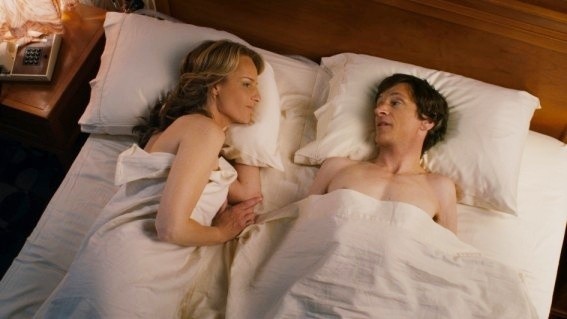 There are times when an astounding story can open your eyes to matters you never paid any thought
to because you felt you never needed to; then there are those you are simply blissfully unaware of. Kudos to Clare Stewart, Festivals director of the 56th BFI London Film Festival for including The Sessions in its line-up; the film tells
the story of poet and journalist Mark O'Brien (John Hawkes), a disabled individual who, due to a bout of polio as a youngster, is confined to an iron lung, unable to move any part of his body save for his head. 38 years of age, Mark's visits to his local priest (William H. Macy, on fine form) lead him to Helen Hunt's sex surrogate Cathy in a bid to lose his virginity. A tough sell for a film indeed. But no need for worry. Writer/director Ben Lewin tackles the true-to-life story (based on articles, poems and journals O'Brien himself wrote) with aplomb, flitting from scene to scene without a worry over the pressure of dealing with such a sensitive matter. Hawkes' portrayal of O'Brien, all witty asides and down-to-earth musings, is really quite something - proving that for all his
Winter's Bone
and
Martha Marcy May Marlene
silent and uneasy exterior, he can deliver when tasked with the more challenging performances. And boy, does it speak for itself.
Hunt's professional therapist
is good on-screen company for Hawkes, the two forging an unlikely but convincing chemistry. Most interesting are her scenes when she returns home from her sessions with O'Brien; evidently more difficult to leave him behind each time (she
immediately points out six sessions is the limit; sex surrogates aren't prostitutes, after all,)
the
interactions with her husband, and their forced pillow talk – compared to her lively fluent conversations with her patient - could have been mapped out to add flesh to Cathy's bones.
Attempting to split the strangely-rapid

scenes by cutting to O'Brien's talks with H. Macy's priest to fill in the gaps prove just a little mismatched to the remainder of the film. At times, it appears Lewin worries some scenes are outstaying their welcome, when you just feel it simply could have been more effective if shown. Not least because the application of the overused voice-over technique genuinely works well in this instance. After all, if anyone's thoughts are going to be intriguing to hear, it's going to be a man with an iron lung who spends his time thinking.
Although Lewin's script may brush over the more nasty aspects that may come with the territory (perhaps his point - Lewin himself is a former polio sufferer,) t
he central performances complement the astounding story, if not to as an astounding degree as you'd hope.
But as the laughter pours out, you'll marvel at how a film about a guy unable to move his body can be so heartwarming. In other hands,
The Sessions
could have been littered with sentimental schmaltz. In Lewin's grasp, it is so much better, if perhaps played a little too much for smiles.
Catch

The Sessions

on general release, January 18th 2013.
15, 2012, Directed by Ben Affleck
Starring: Ben Affleck, John Goodman, Bryan Cranston, Alan Arkin
T
here comes a moment in Argo, Ben Affleck's third stint behind the camera, where feeling relaxed in your cinema seat will become something of a distant memory. This feeling will inevitably be followed by clammy hands, a speedy heartbeat and seat-shuffling galore, topped off with a silent affirmation for Affleck's credibility as director. If none of the above applies - Argo, for you, is a write-off; a genre-stabbing mash-up of striking cinematic genres that offers a slim amount of originality. If that's the case, then with all due respect, more fool you.

Six members of the US embassy are forced into hiding in Tehran during the 1979 Iranian Revolution, holed up in the Canadian embassy for months after their building is stormed by rioters. With the CIA at a loss of how to extract the American's out undetected, the CIA's 'exfiltrator' Tony Mendez (Affleck takes starring role, levelling it out with full 70s hairdo) propose an out-there plan: they use their Hollywood contacts to announce production on Argo, a science-fiction adventure that transforms him into hotshot producer who must fly to Iran to scout locations for the shoot. Code for: smuggle the American's out of the country paraded as Argo's film crew. A script-reading and Variety article later, Argo is go. As Breaking Bad's Bryan Cranston admits, 'It's the best worst idea we have.'
Kicking things off in fifth gear, setting up the US embassy's situation, once the film's pace slows to allow for the story to present itself, you'll feel deeply embroiled in the 70s aesthetic that is pulled off well. The cinematography, the colour palette - even the old-school Warner Bros logo used as the film begins stays in your mind. Somewhat more strikingly, as the film finds its footing,
the political genre becomes Affleck's focal point. Contrast these All the President's Men-esque office-rushing and intel-sharing scenes with the ensuing movie industry satire that follows (think Get Shorty with John Goodman and Alan Arkin as a director/producer duo – magic combo,) it is surprising how little this alienates, and instead how accessible the plot transition becomes; crucially never playing it for laughs, the two slot in rather well. Their delivery ensures no need for the script to strive for the comedy. It all comes natural. It's no less of a credit to Affleck as a filmmaker though that he knows when to leave the lightheartedness behind, and delve headfirst into the matter at hand. The guy proves with confidence that he knows how to give a good go at several genres in one audacious feature, but also is savvy enough to know when to move swiftly on when you could assume you're onto a winner.
Once the extraction mission is in full swing, the tension heightens to mind-blowing heights. Although the crew are severely underdeveloped, you never once fear any less for these characters that Mendez is attempting to rescue. In a film where the line of good and evil is pretty plain to see, Affleck refuses to insult the intelligence of the viewer, opting instead to direct with a panache so discreet that it's always clear what's occurring. Fundamentally, whichever opinion is formed, it all boils down to one common hope between the nail-chewing audience members: let them get home safely.
If characterisation was applied successfully - namely to Mendez and his family relationship that unfortunately adds nothing when an attempt is made at carving out some form of dynamic between he and his son - Argo could have been sublime. It just falls short. The final stretch may come under fire for being drawn out, extending the running time for a bit too long. As it is, it's doubtful you'll experience as tense a final third for quite a while, with the editing of Affleck's brilliantly-captured scenes doing everything that needs to be done. After acclaim for previous films Gone Baby Gone and The Town, all eyes were on this film to be the clincher. Ben Affleck nails it once again, further proving - and maybe removing all doubt in the process - that he is a truly gifted maker of films.
4.5

/5
Argo

received its Accenture Gala screening on Wednesday 17th October; catch it on Saturday 20th October at Mayfair1.
15, 2012, Directed by Lee Toland Krieger
Starring: Rashida Jones, Andy Samberg, Emma Roberts, Elijah Wood


Celeste and Jesse are best of friends; they make plans around each other, they finish each other's sentences, they have in-jokes galore. Celeste and Jesse are also divorcing. Here lies the premise for our two eponymous characters, played by Rashida Jones and Saturday Night Live regular Andy Samberg. Rom-com would be the wrong word to apply, for at its centre, C+J Forever is more bitter than sweet. You could perhaps map out the gestating plot arc if asked, and do so with relative success, but it doesn't make these moments any less painful or hilarious (the two fortunately not linked) to witness - no doubt enhanced if divorce is something personally experienced. There are laughs to be had - many, in fact - with Rashida Jones, who impressively shares a writing credit alongside Will McCormack, taking it upon herself to highlight her on-screen presence as something that needs to be applauded. Reduced to far-too-similar supporting roles in the past, if Celeste and Jesse Forever does one thing, it should be to launch this girl to superstardom. Samberg proves likeable enough as Celeste's Jesse, with Lee Toland Krieger's direction resting simply on the pair's chemistry. The film raises plenty of questions about love - admittedly, too many to make you feel comfortable - and this may be the reason the film successfully evokes the appropriate emotion when needed, something romantic comedies rarely do these days. The occasional misstep (a massively understated plot turn is no big deal to the character it'd be the biggest deal too, not to mention an unnecessary sub-plot involving Emma Roberts' teen singer Riley Banks,) but it's easy to forgive those when you're viewing a film so charmingly brutal, - and one that doesn't fear standing up to Hollywood expectation.
4

/5
Readmore...