2013, 15, Directed by
Declan Lowney
Starring: Steve Coogan, Colm Meaney, Felicity Montagu, Sean Pertwee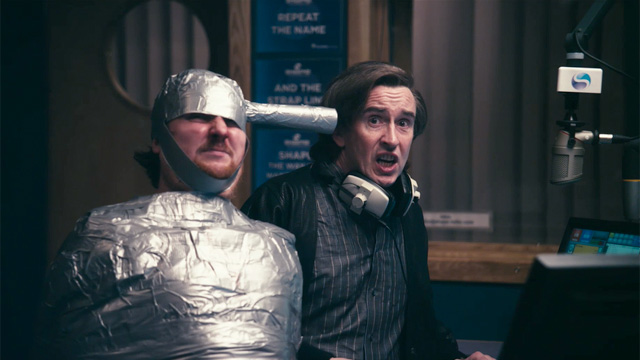 Many would say that Alan Partridge, the disc jockey from Norwich, has long been overdue a feature film - many being thirty-something aficionados, or even twenty-something's with a taste for British comedy. It was 21 years ago when the character (co-created by The Thick of It's Armando Iannuci) first lent his voice to Radio 4's On the Hour, sparking off a rib-tickling list of credits ever since. It was decided that now was the time - in a blockbuster-riddled age - for the multiplex invasion, and what we've been handed is Alan Partridge: Alpha Papa, a charming British comedy spin-off more Inbetweeners Movie than League of Gentleman's Apocalypse.
Partridge is more than just a character, channelling his purveyor Steve Coogan far more than the other way around. Every thought, line of dialogue and character tick is layered with precision - this is Coogan's baby. And he'd be damned if this film wasn't any good. Breathe your sighs and wallow in the news that Alpha Papa is Funny... with a capital F. Stocked with quotes up there with the best of 'em, this spin-off (which began its film shoot in Norwich only this past January) is a love-letter, if an ever so slightly scribbled one. Like most comedies, there's the odd misfired joke fit with obligatory chuckle, and the lines of realism are blurred to say the least; quite tough to swallow when Partridge's entire existence balances on being the everyman who lives down the road.
In terms of plot, we have Colm Meaney's Irish graveyard shift DJ Pat Farrell turn gun-crazed hostage-taker during the office party at North Norfolk Digital when company Shape are placed in charge and fire him (with no help from Alan's friendly suggestion to 'Just sack Pat'.) A hostage situation at his feet, the only person Farrell will converse with is Alan, who views the opportunity for evolution as he acts as a go-between for the police and the hostages.
The rest should be left for you to discover; prep yourselves for several laughs a minute. Coogan's dialogue, quite evidently largely improvved, aims to push this character even further than you could have imagined (Partridge equipped with a rifle!), but all involved prove here fresh ideas are still at their feet. There's not an Aha in sight.
Readmore...