We Need to Talk About Kevin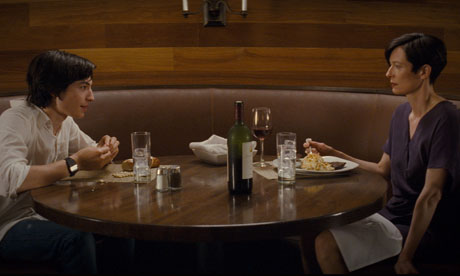 Release Date: 21st October
Highest Box Office Position: 7

Directed by Lynne Ramsay
Starring: Tilda Swinton, John C. Reilly, Ezra Miller, Jasper Newell
If there's a few films from 2011 that certainly need to be spoken about, it's Lynne Ramsay's dazzlingly bleak We Need to Talk About Kevin, in which Tilda Swinton puts in a career-best performance as a mother who has to deal with the consequences of her son Kevin's devastating actions. Through non-linear narrative, Swinton perfectly conveys Eva's desire to love a son who hates her, and anguish at facing up to cruel revelations. Ramsey raises the game here – it has to be seen to believed.
We Need to Talk About Kevin reviewed...
Drive
Some heroes are real
Release Date: 23rd September
Highest Box Office Position: 5
Directed by Nicolas Winding Refn
Starring: Ryan Gosling, Carey Mulligan, Albert Brooks, Christina Hendricks
Nicolas Winding Refn's 80s neo-noir has everything going for it, not to mention guaranteed cult status. Ryan Gosling is the enigmatic toothpick-chewing Driver with no name who whisks away criminal's right from under the cops' noses by night. Keeping himself to himself, he threatens to ruin all stability when involving himself when a bid to protect Carey Mulligan's innocent girl next door embroils himself in danger with Albert Brooks and Ron Perlman's villains. Depicting this with an electro, vibrant, damn cool soundtrack, as well as tight editing and an iconic performance in Gosling to top it all off,

Drive

is races ahead.
Release Date: 30th September
Highest Box Office Position: 15
Directed by Lars Von Trier
Starring: Kirsten Dunst, Charlotte Gainsbourg, Kiefer Sutherland, John Hurt
Directed by Lars Von Trier, and promoted amidst his thoughtless remarks at Cannes Film Festival, this is a truly astounding work of art. Split into two parts, the film follows two sisters, played by an award-winning Kirsten Dunst and Von Trier regular Charlotte Gainsbourg, and how their lives are altered by the introduction of a new planet named Melancholia that threatens to collide with the earth. With support in the form of Kiefer Sutherland and John Hurt, this could be the arthouse auteur's finest piece yet.
Release Date: 7th October
Highest Chart Position: 19
Directed by Paddy Considine
Starring: Peter Mullan, Olivia Colman, Eddie Marsan, Samuel Bottomley
The directorial debut of actor Paddy Considine proved that this guy has more than one string to his bow – and one that he should pluck more often. Tyrannosaur, a gritty British drama set in a Leeds estate, was quite simply storytelling of the cruellest, gruelling – yet sublime nature. Peter Mullan and Olivia Colman's central performances (as the lost souls whose lives collide when the former charges into the latter's charity shop) are ones to be shouted about.
Tyrannosaur
reviewed
...
Number 1:
Directed by Michel Hazanavicius
Starring: Jean Dujardin, Berenice Bejo, John Goodman, Uggie the Dog
The Artist is a very special film. Telling the story of George Valentin, a silent movie star who refuses to embrace the introduction of sound in cinema at a time when audiences 'want to hear what actors have to say', he remains set in his ways and continues making silents with his trusy dog (amazingly played by Uggie the Dog!). As his career hurtles downwards, new actress on the block Peppy Miller's soars - but Valentin remains in her mind amidst her success... A charming storyline propelled forward by the charming way in which French director Michel Hazanavicius depicts his film. If you don't know already, The Artist is a silent black and white. The irony of the storyline keeps this from ever becoming gimmicky, with lead actors Dujardin and Bejo keeping everything grounded: and just when you think you have this treat worked out, the rug is pulled from under your feet in a way you just don't expect.
T
his one really lives up to the hype and deserves any award success it receives.
Readmore...