Dexter: Season Four
2009, Developed for Television by James Manos Jr.
Starring: Michael C. Hall, Julie Benz, Jennifer Carpenter, C.S. Lee, Lauren Vélez, Davod Zayas, Desmond Harrington, James Remar and John Lithgow
Most people who have never watched Dexter have probably heard talk of the AMC show's fourth season, and it is no secret that this is due to the immediate addition of John Lithgow. If playing any other character than the one he stars as, then admittedly this season would not glisten half as bright as it does. The Trinity Killer is a knockout, a tragically twisted soul who wreaks devestation through his mysterious actions - and for the first time, the viewer is immediately let in on the secret; this is who the antagonist is; this is an example of his actions - the season opener paves the way for what is to come. Make no mistake of it, this is the most disturbing season of Dexter to date... It is also its most enticing. A leap up from the weaker third season, the stakes are dramatically raised through all the interactions at play. Harrington is promoted to series regular, and with this promotion comes more suspicion pointed Dexter's way. Which brings us to the eponymous guy himself, Michael C. Hall continuing to establish himself inexplicably as one of the most loveable characters on television. Rarely does a television series come along where there is not a single lacklustre episode in a season, but Dexter has managed it. A series well-known for biding its time before launching its attack, there is barely any breathing space at all here. Thanks to Lithgow, who won a Golden Globe for his efforts, one of the most feared lunatics is brought to life, leaving it impossible to look at him in the same way again. He is one of those characters that when on-screen, all hairs stand on end. Oh, and don't find yourself drawn to the internet in anticipation of what happens next; a show that usually wraps everything up neatly is blown to tatters in a twist that will be remembered as one of televisions most shocking. Truly remarkable.
5/5
Starring: Michael C. Hall, Julie Benz, Jennifer Carpenter, C.S. Lee, Lauren Vélez, David Zayas, James Remar and Jimmy Smits
The problem with Dexter Season 3 lay in the fact that the events of Season 2 were inevitable , but also premature. A few Seasons of Dexter sneaking around Miami afterdark, tracking down a particularly malevolent figure may have grown tedious, yet Season 2 depcited the only loveable murdering protagonist that comes to mind as the central villain that Miami Met are hunting. Attempting to keep his secret shrouded from his colleagues and family emphasises the epitome of what Dexter is about hence automatically layering an anti-climactic levek to Season 3. If the previous Seasons start off slow, this one prides itself in it. But when the ball gets rolling, it is when Jimmy Smit's Miguel Prado - mayor of Miami and friend to Miami Met - finally becomes initeresting. The fact that this is the chosen adversary of the elusive blood spatter seems questionable for a time, which manifests itself over a slow period. The evolution of Prado is the crux of the Season - but through Smit's portrayal, he becomes a much-maligned screen presence. The beauty of the show though is the relationships, whether the brother-sister duo of Dex and Debs, Masuka and Batista - or most importantly and notably, Dexter and Rita. She is the heart and soul of the entire show and provides this through the otherwise extremely grim moments. Thankfully, this Season has plenty of great moments between the two, the relationship played so beautifully by C. Hall and Benz. Everything combined, Season 3 is a quirky watch but one that lags where the previous two never did; maybe it is the calm before the Season 4 John Lithgow storm?
3/5

Dexter: Season Two
2007, Developed for Television by James Manos, Jr.
Starring: Michael C. Hall, Julie Benz, Jennifer Carpenter, Erik King, C.S. Lee, Lauren Vélez, David Zayas, James Remar and Jaime Murray
The gore continues in Season Two of the hit show, but Dexter is placed under pressure when his past victims begin resurfacing, quite literally. Deemed The Bay Harbour Butcher, it soon becomes clear to Miami Met that the monster responsible is one of their own. Combined with this, new arrival Lyla makes a lasting impression, and one which begins to put a strain on Dexter and Rita's relationship. This Season begins a few weeks after the first ended and immediately notches up everything you have come to expect; tension, thrills, shocks and kills. Where this differs from before is that we know exactly whodunit, and the constant heap of dramatic irony results in an overbearing amount of tension. You care about the characters in Dexter's life, whether it be Rita (a radiant Julie Benz) or sister Debs (a can't-help-but-love Jennifer Carpenter), but crucially, you always care for Dexter himself, however unmanageable that seems. C. Hall is at the top of his game, whilst an impressive turn from British actress Jaime Murray - best known for the first few series of Hustle - hits home; although her character verges on becoming a nuisance, Murray's intriguing performance successfully make her quirky Lyla something more than it could have been in lesser hands. As the Season nears its end, you will realise that for Dexter, killing might not remain a choice. Truly gripping stuff.
Episode Count: 12
Best Episode:
Episode 9, Resistance Is Futile
4

/5
Dexter
: Season One
2006, Developed for Television by James Manos, Jr.
Starring
:
Michael C. Hall, Julie Benz, Jennifer Carpenter, Erik King, C.S. Lee, Lauren Vélez, David Zayas, James Remar
It's easy to acquire misinterpretations about Dexter, the AMC show which follows the eponymous character who by day is a forensic scientist specialising in blood spatter, but is a serial killer by night. It all sounds – and feels – very dark from the offset, but Dexter is a lot more multi-layered than that. Season One's plot focuses on a serial murderer branded The Ice Truck Killer, who must be onto Dexter's darkest secret for he leaves him clues with every victim he chops up. To them, it is a game; a game that fuels their life. Through fear of abandoning all sympathy for the main character, clever elements are added to ensure we don't want him locked up like all killers should be. His sister Debs (played effectively by Jennifer Carpenter, who C. Hall went on to marry – and then divorce), and girlfriend with baggage Rita (a lovely Julie Benz) provide an association to the real world. It is through the encounters with humanised characters like this that make Dexter what it is, as well as the spin that he only kills killers - that is his one central rule. It is Michael C. Hall's simply terrific central performance that steals and carries the entire show. His sarcastic narration, extremely twisted humour and fake smiles to his police force colleagues (including the brilliant characters Doakes, Angel Batista and LaGuerta) are all deliciously delivered in perfect time, as well as the brilliant use of the breaking of the fourth wall. It becomes a shock how watchable this becomes, and as the Season progresses you will notice that ultimately Dexter is a fun, albeit extremely grisly, murder mystery where the central (anti-)hero has a lot more in common with the murderer than most. As the twists are piled on, you will find yourself hooked.
Episode Count: 12
Best Episode: Episode 8, Shrink Wrap
4

/5
The Walking Dead
: Season One
2010, Created by
Frank Darabont
Starring
: Andrew Lincoln, Jon Bernthal, Sarah Wayne Callies, Laurie Holden, Jeffrey DeMunn, Steven Yeun, Chandler Riggs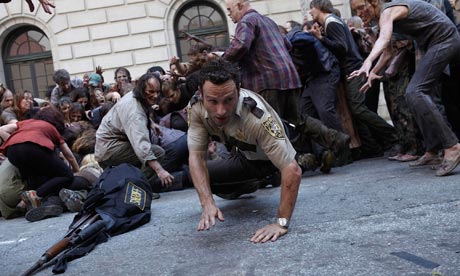 In a time so besotted with the supernatural, whether we are talking ghosts or most recently vampires, it was only a little time when television decided to introduce us to the world of zombies AKA the dead who walk. And so it is, Frank Darabont – director of such loved films, The Shawshank Redemption and The Green Mile – adapted Robert Kirkman's graphic novel, whilst simultaneously shifting to the smaller screen tackling a genre much used to settling in cinema. The world has grown increasingly more tired with zombies, largely in part due to George A. Romero's classic Trilogy of the Dead sucking out the originality there was back in his day. However, what Darabont has managed to create here is quite literally a monster: by transitioning to an episodic structure, fit with gore (which is really quite gruesome) and cliffhangers, The Walking Dead is less homage to Romero, and more character-drama grounded in this reality. The pace slows to the point where you forget that they are survivors of a zombie-populated world, so that when they show up you feel a genuine shock. The plot follows Rick Grimes (British Andrew Lincoln establishing himself in the States as a talent), a cop who wakes up from a coma to find he is short on living company. In a 28 Days Later… style first episode, you successfully feel Rick's emotion and frustration due to the separation of his wife and child, who he is convinced are still alive. As the Season progresses, we are introduced to inter-connecting characters and all convince, even if a few are stereotypical components (the individual who turns on his group amidst the chaos). The dialogue is always naturalistic and flowing, with the focus on the relationships by these characters. When terror ensues, you feel genuine upset and disturbance, and by the time the Season has come to an end, on reflection you cannot help but experience excitement; the amount of seeds sown for the oncoming, lengthier Season makes sure of that. Jump on this bandwagon now.
Best Episode
: Episode 5, Wildfire
Readmore...