From the minute The Artist hit the festival circuit last year, it became apparent that this would be the film to beat come awards season. So far, Michel Hazanvicius' love-letter to the Silent Era of cinema has lived up to this expectation - not just because of the self-reflexive way in which the film is actually a black-and-white silent (…well, largely silent), but because it is a truly magnificent watch, which plays around with the technicalities of film in a way that appeals to generations worldwide. The Artist really is the one to beat.
Chances of winning:

4.5

/

5
The Descendants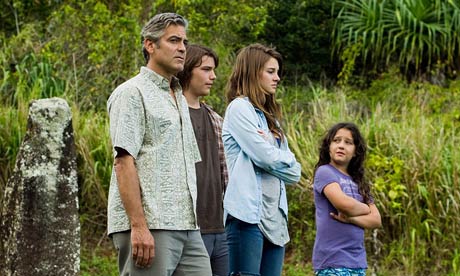 Whenever Alexander Payne decides to make a film (not as often as he sho
uld, that's for sure), Oscar always pays attention. The Descendants sees no difference, emphasised even more so by the star presence of George Clooney in what people are (boldly) claiming to be a career-best performance from the superstar. Merging darkness with hilarity, this is a truly worthy nominee with a sharp script, not to mention quality acting and skillful direction. This is the only film that could (but probably won't) threaten The Artist's chances. The big question is whether The Artist's Jean Dujardin will steal the Best Actor gong from Clooney...
Extremely Loud and Incredibly Close
This be the only film on the list I have yet to see... From the initial response to its being nominated, I'm guessing its chances of winning here are not as strong as others.
The Help
The Help is a nice film. But nice doesn't generally mean a nomination is deserved. Here is one of those films that is included by the Academy mainly due to the subject matter at hand, not to mention the fact that, when all is said and done, it is a bittersweet crowd-pleaser. Not that its recognition is entirely undeserved – both Viola Davis and (likely Supporting Actress winner) Octavia Spencer are certainly something to shout about – but at the expense of other films (Drive, Tyrannosaur, We Need to Talk about Kevin to name a few...), The Help is rather lucky to be here.
Martin Scorsese's foray into 3D filmmaking knocked pretty much everyone for six upon release. Much like The Artist, this is heavily influenced by the creation of cinema – an art that Scorsese is clearly more passionate about than most. Winner of a single Oscar (for The Departed in 2006), Hugo has earnt him his sixth nomination for Best Director, pitting him against little-known French director Michel Hazanavicius for The Artist. It is common knowledge that the film of the winner of Best Director usually goes onto win the main award, so this is where Hugo's chances are really heightened, what with Scorsese winning at the Golden Globes in January. Either way, both films are awe-inspiring and it is truly apt that they have been included in this year's Oscar race.
Midnight in Paris
Midnight in Paris is a breath of fresh air; a return-to-form for Woody Allen that critics and audiences loved in equal measure, it may have been an initial surprise to hear this film had been nominated, but when thought is paid its way, it is completely understandable. Well-written and acted (it has a nomination for Screenplay, but nothing for acting; sorry Owen Wilson), it also boasts Allen's first nomination for Directing since Crimes and Misdemeanors in 1989. Perhaps this is due to his refusal to attend the ceremony. As it remains, if there is one film that Woody Allen has directed in the past decade, this is the one that deserves to be here. Kudos to the Academy.
Moneyball
A project spurred on completely by its star Brad Pitt, Moneyball is a true rarity; a sports movie that isn't really about what happens on-pitch, but about the true-life tale of how Billy Beane used the Oakland Athletics baseball team to find ambition in his own life. Perhaps this is why Moneyball is slowly enduring as a dark horse amidst the heavyweight contenders in this year's Oscar race. (See The Artist, Hugo.) Rightfully so. One of two Pitt films in the line-up, this is not only the better of the two, but showcases a performance of an actor who you thought had reached his game only to leave you cruelly mistaken, and excited for what's to come. Okay, so I wouldn't throw money(ball) on it winning, but it's reassuring to see its inclusion... If only it means more people see it.
Together with Extremely Loud & Incredibly Close, this was the annual shock nomination on the list – but not necessarily for the same reasons as the former. The Tree of Life is Terence Malick's first feature after quite a lengthy cinema absence and not only did critics lap up the film, which depicts the evolution of earth, but Cannes awarded him with the coveted Palme D'or. Which may explain why it's here. Whilst it's exciting to see such a divisive film be in with a shot, quite frankly there were better films the Academy could have chosen. If Lars Von Trier had kept his mouth shut, maybe The Tree of Life's complete opposite, Melancholia (which is about the destruction of Earth) would be here instead. I guess we'll never know.
Scanning your eyes over the list of this year's nominated flicks, if underwhelmed, you would probably be relieved to see War Horse thrown in at the bottom. The most commercially successful of the nominees this year (followed by The Help), War Horse has basically been a shoo-in from the moment Steven Spielberg announced he was to adapt Michael Morpurgo's book of the same name (Animals + War = Oscar bait). Interestingly, War Horse hasn't been dealt as many nominations as one might have expected - most notably Spielberg not being credited for director - but after several shocking omissions for the 'berg in the past (not to mention Christopher Nolan's for Inception last year), sometimes these omissions have to be overlooked. Apparently, War Horse is the most googled of the nominees, which gives it some weight in, what is looking to be, a one-horse race.

Readmore...