15, 2012, Directed by Rufus Norris
Starring: Eloise Laurence, Tim Roth, Cillian Murphy, Rory Kinnear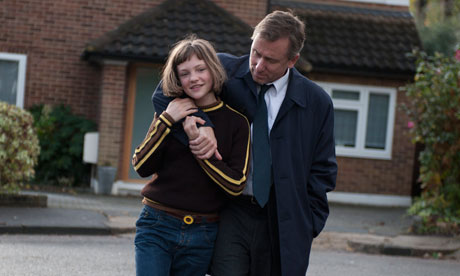 Theatre director Rufus Norris makes the most out of his first-time stint behind the camera, delivering us Broken - a straight-forward yet convoluted story regarding a set of neighbours on a cul-de-sac and their affect on each other's lives. Interweaving plots, presented in underused non-linear fashion all aid in engaging you into the interactions of these characters; Rory Kinnear's abrasive, violent widow Mr Oswald, and his tearaway daughters; Cillian Murphy's warm albeit conflicted, Mike who is teacher to the children of Tim Roth's calm psychiatrist, Archie. We are introduced to the world of these creations – adapted from Daniel Clay's 2008 novel of the same name – when Mr. Oswald brutally attacks a troubled boy in front of Archie's daughter, Skunk, the catalyst for the eye-opening events that proves to diabetic 11-year-old Skunk the world is anything but innocent. As our warm-hearted

guide through an otherwise quite dreary affair, first-timer Eloise Laurence does nothing to aid her power in stealing this show – it's quite clear that comes naturally to the actress who undoubtedly will go on to big things.
Norris' film is easy to follow, despite the many character's weighing down and extending the running time - yet Broken manages to deliver on its British Independent Film Award win, proving to be extremely watchable with several charming moments. The climactic showdowns may amount to contrived melodramatic fare, but it is easy to overlook this when Broken is a well-crafted debut from a director who can quite clearly garner top performances from a great cast.
Readmore...